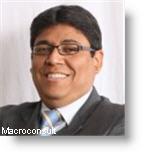 Exports of illegal gold from Peru bring in about $1.8 billion per year, making it larger than the country's drug trade, according to a new study by consulting firm Macroconsult.
Elmer Cuba, a prominent Peruvian economist with Macroconsult, presented on Wednesday a new study that shows the size and influence of illegal gold mining, and suggests ways to combat it.
"Illegal gold beats cocaine," Cuba said, adding that drug trafficking brings in around $1.2 billion per year, according to newspaper Gestion.
Both illegal gold mining and cocaine production and trafficking in Peru have been growing over the past several years.
Failed policies and corruption have led Peru to be considered now the world's biggest cocaine producer, overtaking Colombia, according to the U.S. government.
Meanwhile, illegal gold mining —largely ignored by the state until recently— has been buoyed by high gold prices that attract migrant workers.
Both activities have been able to grow amid a lack of state presence and rule of law in Peru's remote mountain and jungle regions. The illicit activities have far-reaching tentacles that are able to corrupt officials, and have caused serious environmental contamination and social problems, including forced labor and prostitution.
Each activity employs tens of thousands of people. They are considered national problems, although illegal gold mining is heavily focused in Peru's Madre de Dios region, while the largest areas of coca production – the raw material used to make cocaine – are in the Apurimac and Ene river valley, or VRAE, and the Upper Huallaga valley.
Efforts by the government to gain control over drug trafficking groups and illegal miners have led to deadly confrontations that have cost numerous police and military officers their lives.
Cuba said that illegally produced gold accounts for 22 percent of gold exported from Peru. "From the total of 5 million ounces of gold exported, the source of more than 1 million is not known," he said.
Cuba, a macroeconomic consultant to some of Peru's leading companies, said that one of the main tools to combat illegal gold mining must be the detection of money laundering.
The government enacted laws to criminalize illegal mining earlier this year, while the tax authority, Sunat, is to begin implementing mechanisms in June to monitor operations in several parts of the country, and particularly in Madre de Dios, including the wider scope of suppliers to the industry, of tools, chemical inputs and heavy machinery.