Peru writer-director Claudia Llosa's second feature film, "Milk of Sorrow," took the Golden Bear award for best film Saturday, at the 59th Berlin Film Festival.
"This is beautiful, this is such an honor," said Llosa, when she received the prestigious the award. "This is for Peru. This is for our country."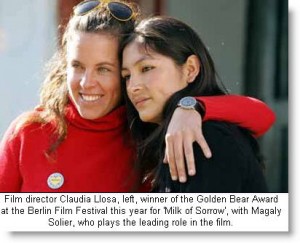 Llosa's "Milk of Sorrow" – the first Peruvian movie to ever be featured at the Berlin Film Festival – is a drama featuring Fausta, a young woman who believes she has inherited her mother's wartime traumas through breastfeeding. To save herself from the same fate as her mother, the young  domestic servant – interpreted by 22-year old Peruvian actress Magaly Solier – inserts a potato into her vagina.
Throughout Peru's 20-year internal war, women – just like Fausta's mother – were targets of sustained and often brutal violence.
According to Peru's Truth and Reconciliation Commission, women were subject to sexual violence by government security forces and, to a lesser extent, by the Maoist Shining Path insurgency. However, rape and similar sexual crimes are typically under-reported because of victims' feelings of shame, guilt, or fear of stigmatization. In many cases, women who reported abuse and rape were rejected and abandoned by their communities and families, abused by their partners and cast as impossible to marry.
This issue is serious and a profound human problem, Peru President Alan Garcia told state news agency Andina. "It makes me very happy that this kind of serious cinema has brought us recognition from Europe."
Llosa's film beat other top-notch films to the Golden Bear, such as "My One and Only," with Renee Zellweger, and "The Messenger", starring Woody Harrelson.
This is the second feature-length film directed by Llosa, 33. Her first was "Madeinusa", 2006, set in an Andean village.