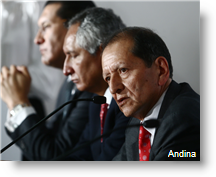 Some 75,000 mining engineers, investors and developers from 48 countries are meeting in Arequipa this week for the 31st Perumin mining convention, the country's leading investment event and one of the most important mining events in the world.
On Monday, Premier Juan Jimenez inaugurated the convention and the Extemin show, which includes some 900 companies from 26 countries exhibiting their machinery and technology.
The week-long schedule covers conferences and talks on investment, logistics, specific projects, and technology by speakers that include mining CEOs and presidents, academics, and several of Peru's cabinet ministers —Economy minister Luis Miguel Castilla, Environment minister Manuel Pulgar-Vidal,  Education minister Patricia Salas, and Mining and Energy minister Jorge Merino.
The theme for this year's convention, organized by the Mining Engineers Institute, is "Mining, opportunity for social inclusion and development," a recognition of the need to resolve the conflicts that constantly arise between mining projects and both indigenous and contemporary communities  within the sphere of influence of these projects.
Broaching the theme, Premier Jimenez said at the inauguration that the government would encourage dialogue to ensure the future development of Conga, the Newmont-Buenaventura gold project in Cajamarca that was postponed some 18 months ago following major clashes with farming communities and local political leaders opposed to the project.