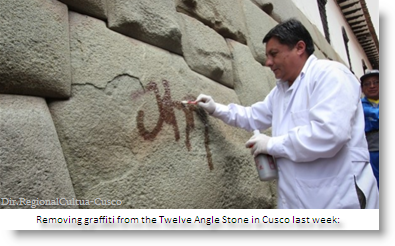 Police officers in Cusco said they have arrested two men for vandalizing a colonial-era home in the city center, daily El Comercio reported.
Officers said that this new vandalism incident —following the recent defacing of the famous Twelve Angle Stone— was carried out by two men, one of them a 24-year-old tourist from Norway and the other a 37-year-old from Lima. The police came upon the men before dawn on Friday morning painting their initials on a colonial house, near the main square, that is built on a foundation of Inca stonework.
The tourists were taken to the prosecutor's office, where they will be charged with committing a crime against cultural heritage.
Authorities are also to investigate whether the individuals were connected to other vandalism of Inca stonework in Cusco recently.
The arrest follows the defacing of the famed Twelve Angle Stone a week ago by an individual who painted the letters JHR on the stone's surface.
The stone, located just off Cusco's main plaza, is a unique example of  the advanced Inca stonework techniques. It is a popular tourist attraction in Cusco and a site of pride for many locals. The perfectly cut stone is part of a wall known as the Hatun Rumiyoc, which makes up the outside of the Archbishop's palace.
Several other Inca stone walls and other cultural heritage sites in Cusco have been defaced by vandals in recent years.
The city of Cusco is a UNESCO World Heritage Center. The city is a popular tourist attraction for the hundreds of thousands of national and international travelers who every year visit the nearby Machu Picchu citadel and wildlife sanctuary, also a UNESCO heritage site.