A recent poll in Lima and Callao shows that former President Alejandro Toledo is in second place for President of Peru among voter intentions in upcoming general elections, to be held in April 2011.
The favorite is Lima's former mayor, Luis Castañeda, with 27.1 percent of the intention to vote in Lima and Callao.
Toledo has 24.3 percent, up from 18.9 percent in a September 2010 poll. He is ahead of Congresswoman Keiko Fujimori, the daughter of jailed former President Alberto Fujimori, who fell to 21.5 percent from 23.3 percent in the previous poll.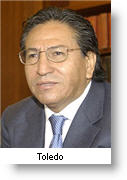 Former trade and later finance minister Mercedes Araoz, who will run on President Alan Garcia's ruling Aprista ticket, came in at 7 percent, compared to 2.7 percent two months earlier, while the head of Peru's Nationalist Party, Ollanta Humala, has 6.5 percent support in the capital, up from 4.4 percent previously.
The poll also asked residents what the main problem is for them and their family. More than 33 percent said crime and the lack of security, while 18.2 percent said the lack of stable work and 14.7 percent said corruption.
The IMA Marketing Studio poll of 1,000 people in Lima and Callao was carried out November 13-14. It has a margin of error of 3.1 percent.