President Alan García sacked his justice minister on Tuesday after investigations revealed irregularities in a pardon granted to a former TV station owner. The decision to remove Aurelio Pastor, nine months after he was appointed as Peru's minister of justice, was disclosed in a supreme resolution signed by García and Cabinet Chief Javier Velásquez, Radio Programas del Peru, RPP, reported.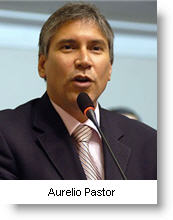 Pastor came under pressure last week when the former owner of America Television, José Enrique Crousillat, filed a lawsuit in an attempt to regain control of the station.
Crousillat, 77, fled to Argentina in 2001 after he was caught on hidden video with his son, José Francisco, receiving millions of dollars in bribes from ex-spy chief Vladimiro Montesinos in exchange for favorable coverage of former President Alberto Fujimori's regime in the 1990s.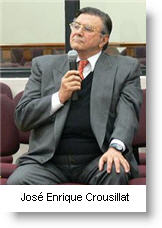 Early in 2006, the Crousillats were extradited to face trial in Lima. Crousillat was sentenced to eight years in prison and charged a fine of $52 million, convicted of "selling" America Television's editorial line to the Fujimori government.
President Alan García granted a pardon to the former owner of America Television last December for "humanitarian reasons," on the grounds that he suffered from a series of ailments that could put his life at risk.  Crousillat had spent 10 months of his sentence in a private clinic before being returned to the San Jorge prison.
The San Jorge Prison medical board did not concur with the high risk diagnosis and the pardon led to the resignation of the head of the prison system, Jorge León.
Local media recently published photos of Crousillat, however, appearing in good health at popular beaches and restaurants after he was released from prison.
On Sunday, García reversed the pardon granted to Crousillat, who went into hiding after a Lima judge issued an arrest warrant for the former TV owner.
Pastor denied responsibility in the case and sought support from Apra party members, arguing that pardons are the prerogative of the president.