Four stunning examples of Paracas textiles, which returned to Peru this week from Sweden, are being evaluated by Ministry of Culture specialists before being prepared for permanent exhibition sometime next year at the Archaeology and Anthropology Museum in Pueblo Libre.
The textiles are part of a collection of 89 prehispanic pieces that were bought in the 1930s, not long after they were discovered and smuggled out of Peru, and exhibited since then in the World Cultures Museum owned by the city of Gothenburg.
This first shipment is one of several that will be made from Gothenburg over the next seven years, and is the result of demands initiated by Peru in 2009. In 2013, the Swedish city's council agreed
to return the pieces in a memorandum signed by  Gothenburg mayor Anneli Hulthén.  The final shipment is scheduled to be made in 2021, coincidentally when Peru will be celebrating its bicentennial of independence and the city of Gothenburg will be celebrating its 400th anniversary.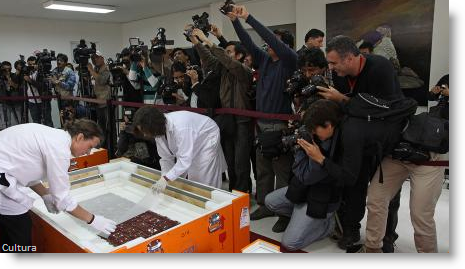 The textiles were shipped in cases especially made for each piece, and unpacked at the Archaeology and Anthropology Museum by Anna Javér, the curator of the textiles at the Gothenburg museum, and local experts overseen by Sonia Guillen, director general of museums at the Ministry of Culture.  The careful removal of the layers of each case can be seen in a video on the Ministry of Culture website and on YouTube.
Also present at the 'unveiling'of these textiles — two cloths and a poncho as well as a small, exquisite fragment— were the minister of Culture, Diana Alvarez-Calderon, and the Swedish ambassador, Eva Zetterberg.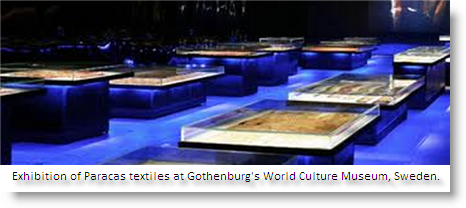 One of the two cloths is a calendar, a brightly colored set of squares unique in its design of 32 different figures, an extremely valuable piece by any museum standards.
The next pieces to be brought to Peru will be chosen once studies have been made on this first shipment, particularly on the special requirements for storing and exhibiting the pieces in Lima's humid climate, Javer and Guillen said.
The exhibition of this textile collection in the museum in Sweden was meticulously designed not only to highlight the pieces but more importantly to ensure their conservation.