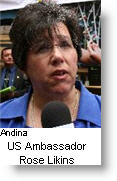 The United States Ambassador to Peru, Rose Likins, said the renegotiation of the bilateral free trade agreement that has been proposed by President-elect Ollanta Humala would be difficult to achieve, according to the daily La Republica.
"It is still to early to use the word renegotiation. It is a very formal term and in our case it would be very difficult [to do]," said Likins.
However, the ambassador said the US will look to appease the concerns of the Humala administration.
"We have to understand what [Humala's] concerns are, but we haven't had direct talks and I can't say what would be the appropriate steps [if his party wants to renegotiate]," Likins said.
During the campaign, Humala's proposals to renegotiate some of Peru's FTAs came under fire from opponents saying that it would endanger the country's economic model.
Humala has defended the proposal saying it is legally feasible and not anti-democratic, stressing his focus on negotiation.
Peru has signed numerous trade deals during the President Alan Garcia's administration. In addition to the US, Peru's main FTAs are with China, the European Union and Canada. It has also recently signed a trade accord with Japan and is looking to begin talks with India.
Humala will assume office on July 28. He is scheduled to receive his credentials next Thursday, June 23.