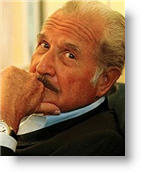 Mario Vargas Llosa, Peru's Nobel laureate, said that his Mexican contemporary, renowned author Carlos Fuentes, who passed away this week, was a "universal man" whose work has left a "deep footprint."
Fuentes died Tuesday in Mexico City. He was 83 years old.
Along with Vargas Llosa and Colombian author Gabriel Garcia Marquez, Fuentes was a leading figure in the Latin American Boom, a literary movement in the 1960s and 1970s that propelled the region onto the international literary stage.
Fuentes was the author of a number of novels, short stories, essays and screen plays. Some of his most prominent works include "The Death of Artemio Cruz" and "The Old Gringo." In 1987, Fuentes received the Miguel de Cervantes prize, which is one of the most prestigious literary awards in the Spanish language.
In addition to writing, Fuentes was also a diplomat, serving in London and Paris. He also taught courses at a number of universities, including Brown, Harvard, Columbia and Cambridge.
"I knew him for 50 years and we were friends all that time without anything, ever, hurting that friendship," said Vargas Llosa. "He leaves behind an enormous collection of works that are eloquent testimonies to all of the big political problems and cultural realities of our times."