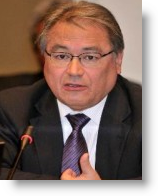 Walter Alban, a former People's Ombudsman and the Peruvian Ambassador to the Organization of American States, OAS, has been appointed to head the Ministry of Interior following the resignation of Wilfredo Pedraza on Friday.
Pedraza's resignation, and that of President Ollanta Humala's top security adviser, Adrian Villafuerte, came in the wake of the scandal involving police protection for a former political operative of Vladimiro Montesinos, Oscar Lopez Meneses.
The Executive on Friday had also asked for the resignation of Admiral Jose Cueto, head of the Joint Command of the Armed Forces, but Cueto has refused to resign, stating that it would signal that he was guilty.
According to the police chiefs who oversaw the police protection for Meneses, the order had come from Cueto himself.
After the revelations, Pedraza immediately fired six high-ranking police officers and promised to investigate where the order came from. The police chiefs headed the key Lima Region, Special Forces, the Tactical Unit, Emergency Division, and the bomb deactivation squad, Udex.
Lopez Meneses was a member of Montesinos' inner circle in the 1990s, serving as a close adviser often at his side. In 2012, Lopez Meneses received a four year suspended prison sentence for corruption, the interception of telephone calls and illegal possession of arms. Earlier, in 2000 he was the Fujimori party coordinator for Congress, and is known to have had close ties to the Apra party.
The details surrounding the order to protect the Lopez Meneses home are still unclear. Former police generals have said that the order to protect was given by Admiral Jose Cueto, who has denied that he made the request, saying the allegations are bold-faced lies. Former Interior Minister Fernando Rospigliosi, a staunch critic of Humala's, said that it was security chief Villafuerte who ordered protection for Lopez Meneses, who was working for the government by spying on political opponents.
Humala has ordered an investigation into the incident and lashed out at the suggestion that his government has connections with Montesinos and his allies from the Fujimori era.
"I fear they [Apristas and Fujimoristas] are trying to create a situation to trigger a coup d'etat," said Congressman Daniel Abugattas of Humala's Partido Nacionalista, in an interview with Rosa Maria Palacios.
Abugattas, president of Congress last year, does not believe that the national intelligence center was unaware of the security operation and believes there is an interwoven network of corruption within intelligence and government forces that is being manipulated by Vladimiro Montesinos.
Albán is the fifth Interior Minister since President Humala took office in 2011, while Pedraza was the longest serving of the Interior ministers, despite receiving nearly constant criticism from opposition politicians for his handling of crime.
Adrian Villafuerte, a retired Colonel, was appointed in Augusto 2011 as security adviser to the president. His appointment was highly criticized by local media and opposition politicians who questioned his military past during the administration of now jailed-ex President Alberto Fujimori.
Villafuerte was regularly compared to Fujimori's top adviser and shadowy spy chief, Vladimiro Montesinos, who is currently serving a 25-year prison sentence. Montesinos had a tremendous influence on Fujimori and was likely the most powerful political figure in Peru during the 1990s, although Fujimori denied even knowing him until 1997. Montesinos is serving jail time for corruption and ordering murders by a paramilitary death squad.
Government opponents often suggested that Villafuerte enjoyed the same level of influence over Humala as Montesinos had over Fujimori. While that comparison is likely unfair and unfounded, it highlighted the distrust that Peruvians now have of any individual that appears to be operating out of the public eye with a large amount of power.