The presidential candidate for Peru's ruling Aprista party, Mercedes Araoz, quite her campaign on Monday after weeks of an internal conflict with party stalwart Jorge del Castillo.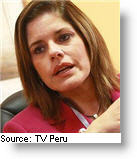 Araoz submitted her resignation to the Special Election Board (JEE), which officially removes her from April's general election, daily El Comercio reported.
Araoz, an independent who served as President Alan Garcia's minister of Economy and Finance, followed through on her promise to resign if Del Castillo was allowed to run for Congress on the APRA ticket.
The former minister had called for party members that are being investigated in corruption cases to refrain from seeking re-election. This included Del Castillo, who is being investigated for his alleged role in a 2008 scandal that resulted in his resignation as Garcia's Prime Minister and a major shakeup of his Cabinet.
Court investigations have been delayed with the loss of some of the key evidence somewhere between the police investigations, the district attorney's office and the court.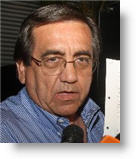 Del Castillo refused to step down and on Sunday 75 percent of APRA party members in Lima supported his decision to run for Congress on their ticket.
As a result of the party's decision to back Del Castillo, Araoz announced on TV news program "Cuarto Poder" that she would not continue in the campaign, leaving APRA without a presidential candidate.
Araoz was well back from the top three candidates – former president Alejandro Toledo, Lima mayor Luis Castañeda and Congresswoman Keiko Fujimori – for president with less than 5 percent support, according to recent opinion polls.