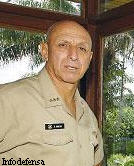 The head of Peru's armed forces says the country is in a war with drug trafficking terrorists in the Apurimac, Ene  and Mantaro river valleys.
In an interview with daily El Comercio, Admiral Jose Cueto, the head of the Joint Armed Forces Command, said it is difficult to make a distinction between leftist Shining Path rebels and drug traffickers in the zone.
"The terrorism that is in the area and that before followed Shining Path ideology is in collusion with drug trafficking," he said. 
In recent years, leading political analysts have been calling for the press and the military to view the rebels as criminals aiding and abetting drug producers and traffickers rather than bearing any relation to the Shining Path or some form of ideological terrorism. 
"The terrorists have a very good understanding of the terrain. On top of that, you have to add the help the population gives them. It isn't a regular war where you know the enemy," Cueto said. "People need to understand that."
On Wednesday, five soldiers were killed and five others wounded in the VRAE when they were confronted by remnants of the Shining Path.
State security personnel are regularly targeted by the group. In total, almost 20 security personnel have been killed at the hands of the Shining Path in the VRAE so far this year.
One of the main challenges facing the military is the lack of trained personnel, Cueto said.
"Unfortunately, there aren't a lot of people," he said. "Thanks to what happened in the country during the past 20 years and the questioning against the Armed Forces, there aren't many people serving in the military institutions."
"The few people, basically in the Army, are troops. The ideal would be for them to be professional people," he said. "Little by little we are trying to change that, but it takes time."