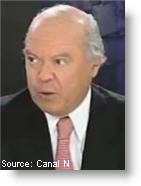 South America's biggest nation, Brazil, is eyeing Peru as a strong partner to establish ties with economies in the Asia-Pacific Economic Cooperation, or Apec, the president of the Peru and Brazil Chamber of Commerce and Integration, Miguel Vega, said Wednesday.
"Brazilian investments are very interested that Peru become an industrial platform for the Pacific, especially with its connection to APEC," state news agency Andina reported Vega as saying.
APEC includes 21 member economies that account for about 40 percent of the world's population. The economies make up 54 percent of the world's gross domestic product and 44 percent of global trade. In Latin America, the only economies that belong to the block are Peru, Chile and Mexico.
In 2008, Peru hosted the APEC Leaders Summit. It has since hosted various smaller meetings and is scheduled to put on the 3rd APEC Business Advisory Council meeting next week.
Vega said that Brazilian companies will take part in this meeting. "This caught the interest of Brazilian companies that want to establish business with Asian countries through Peru," he said.
"The relationship between Brazil and Peru has reached an excellent level that translates into understandings and agreements between the governments and businesses," Vega added. "With these understandings in the political and commercial fields, the climate for investment is very favorable."
Brazilian investments in Peru are expected to reach $3 billion, the Brazilian Ambassador in Lima, Carlos Alberto Lazary, said previously.