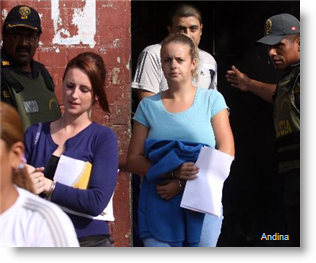 Two young British women were sentenced to over six years in prison by a Peruvian court on Tuesday for trying to smuggle cocaine out of the Andean nation to Spain, according to Peruvian media reports.
Melissa Reid and Michaella McCollum were arrested in August at Lima's international airport when police found cocaine in their suitcases. The 11.5 kilos of cocaine were concealed in wrappings of commercial brands of oatmeal, quinoa and similar foods. The final destination of the drugs, which had a street value of over $2 million, was Spain.
The arrest of the 20-year-old women caught international media attention. British press had been closely following the case as the women were previously reported missing in Spain by their families. The women were working at clubs in San Antonio, Ibiza.
Reid and McCollum, from Scotland and Northern Ireland, originally claimed that they were innocent. The women initially said that they were held by drug smugglers they had met in Spain and forced to travel to Peru to smuggle drugs back to Europe. They said the smugglers threatened their lives and their families.
However in September, the women changed their plea and admitted to drug smuggling. The admission helped them avoid a longer prison sentence of between eight to 15 years.
A court in the port city of Callao, the airport jurisdiction, sentenced the women to six years and eight months in prison.
Well over a thousand foreigners are currently serving prison sentences in Peru for trying to smuggle cocaine out of the country to North America and Europe.  Peru is the world's biggest producer of the drug.