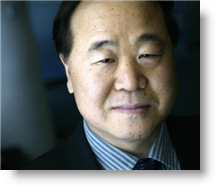 Chinese Nobel laureate Mo Yan will be in Lima later this week and is to give a talk at San Marcos University on May 23* in the afternoon.
A prolific novelist and short story writer, Mo Yan was awarded the Nobel prize for Literature in 2012.   In 2011, then-chairman of the U.S. National Endowment for the Humanities, Jim Leach, wrote in the Humanities magazine that Mo Yan was the Chinese answer to Franz Kafka or Joseph Heller.
Mo Yan, who will also be speaking at one of Lima's museums, is to be introduced on Saturday by San Marcos professor Marco Martos, a former president of the Peruvian Academy of Letters, with several of Peru's leading writers.
Martos suggests that those who haven't discovered Mo Yan's writings should start with his novella Change, which personalizes the political and social changes in China in the past decades from the perspective of personal rather than political events.  Several of his works have been adapted into films, including Red Sorghum, which is his best-known work outside China.
Mo Yan will be in Lima as part of the Chinese delegation accompanying Premier Li Keqiang, who arrives May 21st for an official three-day visit.  The delegation began a three visit to Brazil on Monday.
*Mo Yan's talk will be at San Marcos' Faculty of Letters and the Humanities. Details on how to attend can be obtained from [email protected]