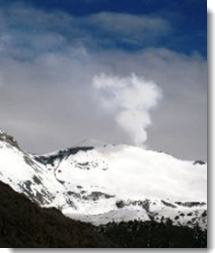 The region of Arequipa has declared a 60-day state of emergency in six districts of Caylloma, in the Colca Valley, following an earthquake on July 16.
The 5.9 earthquake was followed by several strong tremors throughout the day, causing damage to some 400 homes in the towns and outlying areas of Huambo, Cabanaconde, Tapay, Lari, Maca, and Madrigal. Some minor injuries are reported, and part of the Cabanoconde road was blocked temporarily.
Tremors continued today in the areas of Huambo and Cabanoconde.
Domingo Ramos , who monitors the southern volcanoes at the Geoglogical Mining and Metals Institute, Ingemmet, told El Comercio daily that all the towns that felt the tremors are within the area of influence of the Sabancaya volcano, which began to emit plumes of smoke, of steam and volcanic gases, in February this year.  In May, fumaroles coming out of the volcanoe rose between 400 and 1000 meters. 
Although the earthquakes do not necessarily mean there will be increased activity at Sabancaya, Civil Defense began working in March to outline emergency  evacuation routes and plans for villages that would be affected by a volcanic eruption, based on maps developed by  Ingemmet.  The most serious damage to most of the area would be from ash, which would affect not only crops and cattle but sharply increase respiratory ailments in the population.
The last eruption was in 2003.