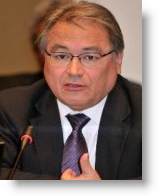 Interior Minister Walter Alban said the National Police are actively working on rooting out corrupt officials after a high-ranking officer in northern Peru was arrested for alleged ties to organized crime.
Alban's comments follow the arrest of Col. Jorge Linares, who was the head of police in Peru's northern Lambayeque region. Seven non-commissioned police officers have accused Linares of having connections to a gang that was involved in extortion, murder, and money laundering.
Alban, who was recently appointed minister, said there are enough "reasonable elements" to investigate Linares' alleged connections to organized crime.
"We'll wait for the results, but I want it to be clear that the police are actively working on identifying what elements could be linked to criminal mafias," Alban said, according to state news agency Andina.
Alban has a steep climb ahead.  He was appointed to President Ollanta Humala's cabinet when his predecessor resigned in the wake of a scandal involving police protection for a former associate of jailed ex-spy chief Vladimiro Montesinos.
Several top-ranking police officers in Lima lost their jobs as a result of that issue.   Yet this week, photographs were published in the press of Lopez Meneses at a party held after the scandal —the party was given by a former police officer, who now works at a private security company, and guests included 12 other officers currently on active duty.
Alban told reporters Tuesday that his office would investigate the relationship between Lopez Meneses and the officers. He added, however, that "for me, these people's police careers are over."
Former Interior Minister Wilfredo Pedraza and President Humala denied having any knowledge of the police protection for Oscar Lopez Meneses. Humala said the incident was due to corruption in the police force — a police officer has since confessed that he forged a document in an attempt to link the President to the Lopez Meneses protection authorization.
Lopez Meneses was a member of the inner circle of Montesinos in the 1990s, a close advisor often at his side. Montesinos, the notorious spy chief of jailed ex-President Alberto Fujimori, is currently serving a 25-year prison sentence at the maximum security Naval base for several crimes, including corruption and ordering death squad killings. In 2012, Lopez Meneses received a four year suspended prison sentence for corruption, the interception of telephone calls and illegal possession of arms.