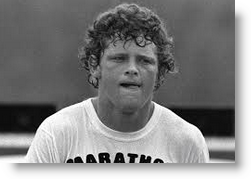 A fundraiser for cancer research in Peru is being held this Sunday in Lima through a Terry Fox Run & Walk.
The event is to be held Sept. 21 at the "Pentagonito", a popular, tree-lined jogging route in San Borja.  Registration and T-shirt sales from 8am, and the run/walk begins at 9am.
Everyone is welcome, children included, to run, walk, cycle, skateboard or even join in wheelchairs and strollers.  It is not a race and there are no prizes.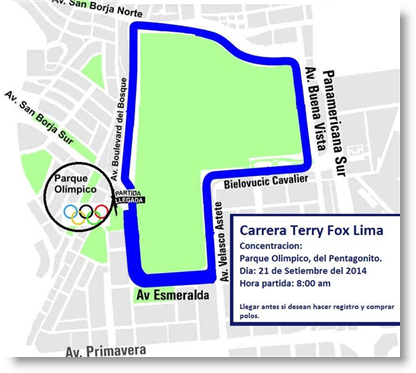 Participation is free, and 100 percent of the money raised through donations and T-shirt sales will be donated to the Fundacion Peruana del Cancer to support their initiative in cervical cancer research in Peru.  The private foundation, set up in 1960, built the country's main cancer hospital in Lima as well as the fully-equipped Maes-Heller cancer research institute, and provides support to cancer patients through a children's program at the hospital and lodgings for low-income patients from the provinces, which includes meals, psychological care and follow-up.
Pre-registration for the Terry Fox Run can be made on the Peruvian Canadian Alumni Association website here.
The first Terry Fox Run was held in September 1981 in 760 different places in Canada, to honor a young Canadian who in 1980 began his own run across Canada to raise awareness and funds for cancer research.  With one artificial leg—he lost a leg to cancer in 1977— Terry ran an average of 42 km a day, starting on Canada's Atlantic coast in 1980. He ran for 143 days across 5,373 km (3,393 miles) to Thunder Bay in Ontario, where he had to stop because his primary cancer had spread to his lungs.
The event is now held in close to 25 countries, and more than $650 million has been raised worldwide for cancer research.  In Lima, more than 500 people participated last year, and organizers expect to exceed that number this weekend.
Learn more on Facebook: https://www.facebook.com/TERRYFOXLIMA?ref=br_tf