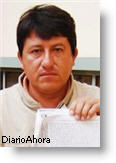 The mayor of a small town in Peru's northern Amazonas was murdered on Tuesday, the most recent incident of a local official being gunned down.
Jorge Arista Vargas, the mayor of Cochamal, was killed by a gunman in a restaurant in the town of Rioja, in San Martin province, according to daily El Comercio. Arista Vargas was with his wife and returning to Cochamal from Tarapoto, where he had attended meetings of municipal authorities.
According to one witness, the gunman took off with another individual who was waiting on a motorbike outside the restaurant.
The motive of the killing is unclear.
Several government officials in the provinces have been gunned down in recent months, including two from Amazonas. Since December, at least four local officials representing towns and regional governments have been killed by assassins.
Interior Minister Wilfredo Pedraza promised to beef up security for municipal officials following the wave of killings.
In March, the mayor of Camporredondo, in Amazonas region, was murdered by a masked man near a police station. The mayor, Wilder Cieza, had received threats.
In February, the regional vice president of Amazonas, Augusto Wong, a physician, was killed by an under-aged assassin at his private health clinic. He had also received several threats prior to his murder.
In December, the mayor of Angasmarca in La Libertad region in northern Peru was murdered by hitmen while handing out toys. The mayor of Casma, in the central Ancash region, was also killed by hitmen in December.
Other small-town mayors have also reported threats from criminal gangs seeking money.