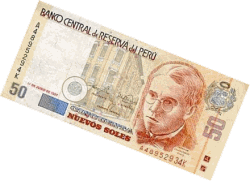 Peru's Central Bank will likely allow the country's sol currency to depreciate further against the U.S. dollar, said economists from Peru's biggest bank, Banco de Credito, according to daily Gestion.
Peru's sol has depreciated sharply so far this year, weakening about 9.5 percent against the dollar.
The exchange rate has been impacted by the increasing likelihood that the U.S. Federal Reserve will start to cut back on its multi-billion dollar a month bond buying program as that country's economy shows signs of improving. The currency has also been weakened by lower metal prices that have hurt the economy.
The depreciation is a major change from the trend over the last decade, when the sol has appreciated steadily against the U.S. currency as the economy posted robust growth. The sol began 2013 at about 2.55 per dollar, compared to its current rate of almost 2.80 to the dollar.
The foreign exchange market is notoriously hard to predict. At the start of this year, almost all economists expected the sol to continue its appreciation trend. The constant appreciation had raised concerns from the export sector, which had been seeing its profits impacted by a strong currency at home. The Central Bank, Finance Ministry and other government offices approved a package of measures in January and February to slow down the appreciation.
However since then the sol has steadily lost ground against the dollar, leading economists to revise their year-end forecasts for the currency. Now, almost all economists expect the sol to depreciate this year.
So far, the Central Bank has looked to prevent the sol from depreciating beyond the 2.80 mark versus the dollar. It has intervened regularly in recent sessions to sell millions of dollars on the spot market, keeping the sol at its current level when it would have otherwise weakened further.
However Banco de Credito says that the Central Bank won't be able to maintain it at that rate forever if it faces stronger depreciation pressures. "Latin American currencies have posted strong losses, nevertheless, the sol has been stable thanks to the active participation of the [Central Bank]," it said.