President Garcia scheduled a meeting Wednesday afternoon with the heads of Peru's leading political parties, to discuss the Chilean espionage case.    The small Government Palace meeting at 5pm today includes the Foreign Affairs minister, Jose Antonio Garcia-Belaunde, the mayor of Lima and head of Solidaridad Nacional, Luis Castañeda, Ollanta Humala of Partido Nacionalista, Lourdes Flores of Partido Popular Cristiano, Keiko Fujimori of Fuerza 2011, and Mauricio Mulder of the governing Apra party.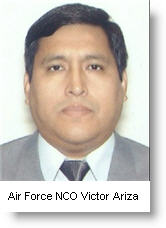 Also today, the Ministry of Foreign Affairs delivered a 2000-page dossier on the case to the Chilean trade attaché. The dossier, prepared by the Attorney General's office, includes e-mails and proof of money transfers from Santiago to the Peruvian noncommissioned Air Force officer, Victor Ariza.
The documents, said Garcia-Belaunde, include the whole investigation process. "Who contacted Ariza, how they contacted him, how he received the money."
According to the documents, Ariza received $3,000 a month for regularly providing military secrets to two people in Chile, "at least one of whom is military," according to Garcia-Belaunde.
Although Santiago has emphatically denied spying on Peru and President Michelle Bachelet described President Garcia's words as "bombastic and offensive", Peru's Defense minister, Rafael Rey, said the evidence provided by the Air Force was compelling and "the Chilean authorities will be unable to deny it."
Investigations point to a network that includes at least six people, very possibly led by someone of higher rank than Ariza. One of the network, Justo Rios Aguilar, fled the country when Ariza was arrested on October 30, two days after the Air Force requested that the Attorney General's office take on the case.
Ariza is being held at the Piedras Gordas prison, next to the Naval Air Force base in the Bay of Ancon, in north Lima.