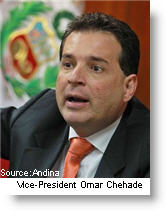 Peru's second vice president, Omar Chehade, has resigned from his post following allegations of corruption early in President Ollanta Humala's administration.
In his resignation letter, Chehade, who is also a congressman, said the allegations were "an unjust and excessive media and political campaign against me."
"Despite my resignation as the second vice president of Peru, my commitment will be to continue supporting and collaborating unconditionally with the government from my position as a congressman," Chehade said.
Chehade, a lawyer, has been accused of influence peddling in favor of a private company.
According to reports, Chehade and his brother allegedly held a meeting with Guillermo Arteta, a former police general who was sacked by the government in October along with many other high ranking officers as part of the reorganization of the police force
Chehade's brother reportedly asked Arteta in a Lima restaurant to help evict workers at the Andahuasi sugar estate who are blocking entry to the farm of the Wong Group, majority shareholders of Andahuasi.
On Tuesday, Chehade reiterated earlier claims that he made a political mistake, but did not commit a crime.
Shortly after the allegations were brought against Chehade, Humala called on the lawmaker to step down. Humala's popularity had fallen partially due to the corruption allegations surrounding Chehade.  However, Humala, 49, was unable to force Chehade's resignation as second vice president because Chehade had been elected and not appointed.
The position of second vice-president is largely ceremonial and has no specific mandate other than succeeding the first vice-president when the latter is acting President. 
Cabinet Chief Oscar Valdes said Tuesday that Chehade's resignation was a personal decision.
Chehade still faces possible suspension from Congress where a commission is viewing his case.