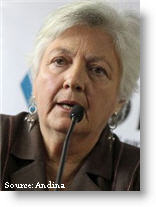 Peru's new anti-drug chief, Carmen Masias, said that the country "let down its guard" last year in the eradication of illegal coca crops, the raw material used to make cocaine.
In an interview published by daily El Comercio, Masias said that Peru's five-year anti-drug strategy will be reviewed and approved by President Ollanta Humala's cabinet on Wednesday.
Masias, who was appointed earlier this month to head the National Commission for Development and Life without Drugs, Devida, said that Peru eradicated about 10,000 hectares of coca last year and is expected to eradicate 14,000 hectares this year.
Masias, a psychologist and former deputy head of the non-government drug prevention institution CEDRO, said that during the first five months of Humala's administration, the message about eradication was unclear. "I think there could have been a more precise message. It was worked on internally, but you have to be explicit and say that the fight against drugs will be firm, that eradication – while not the only [measure] – is absolutely indispensible," Masias said.
Masias was referring to her predecessor, Ricardo Soberon, and his plans to move away from attacking the coca growers and instead focus on attacking the structures of drug trafficking organizations, including money laundering.
Masías' statements indicate a return to the tried and not-too-effective strategies of at least the past 10 years —despite eradication programs, coca hectares have increased from 40,000 to 60,000 in that time— and Valdes has also removed much of Devida's autonomy, according to Soberon, by blocking its direct access to Dirandro, the drug police agency and instead placing it under the Ministry of Interior's general administration office.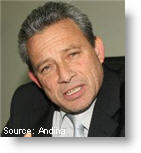 A lawyer and expert in the illegal drug trade, the outspoken Soberon was head of Devida for about five months and was in favor of a stronger intervention in drug policies by his institution, changing the focus from interdiction and forced crop eradication to a more comprehensive program to incorporate active participation of coca growers in the changes.
His appointment was strongly criticized by some local media, including El Comercio, the political opposition and some analysts of Peru's drug trade, for his past ties with coca growers.
Soberon fights back
In an interview with Ideeleradio on Monday, Soberon said he had disagreements with cabinet chief Oscar Valdes, who was previously Humala's Interior minister, about the role of Devida.
His proposals clashed with U.S. and U.N. drug policies, which concentrate on forced eradication, and shortly after his appointment to Devida he was not included in a fact-finding trip to Pucallpa with Valdes and military and police hosted by the U.S. Embassy.
Soberon criticized recent statements made by Masias and Valdes on the greater emphasis to be made on user prevention.
"I would have liked to believe that the idea of  drug policy reform would continue," Soberon said. "But the first statements and the facts surrounding my leaving the post lead me to believe that Devida is enroute to becoming a State-funded NGO for drug prevention."
Soberon said he believed that President Humala was being maliciously misinformed about his 2012 Coca Reduction Plan so that drug policies will continue to be a failure.  He also questioned the fact that police general Juan Zárate, head of Corah, the Upper Huallaga eradication program, has remained in Corah for 25 years and "that apparently no cabinet chief or even President has been able" to terminate his services.
Soberon also rejected accusations by congressman Luis Iberico, by Masias herself, and insinuations by cabinet chief Valdes that he had padded the Devida payroll and was earning a "golden" salary. "The salary I had of 15,600 soles was the same that the others before me received, including Romulo Pizarro and Nils Ericsson and every other drug czar in [Devida's] history," he said, adding that the additional staff was hired to strengthen the seven Devida zone offices.