Leading members of Peru's private sector say they are upbeat about the economy for next year, despite reports that growth has fallen to its slowest rate in five years.
On Friday, the National Statistics Institute, INEI, reported that the gross domestic product expanded just 0.3% compared to the year-earlier month, well-below expectations. The economy is being battered bylower metal prices that have hurt exports and investments.
Still, business leaders and economists say they don't expect the slowdown to continue for much longer.
"The second semester is going to clearly be better than the first semester," said Alonso Garcia-Miró, the president of Peru's largest private business group, Confiep. "And next year is going to be much better than this year."
Garcia-Miró said in comments reported by state news agency Andina that he is confident that Peru's economy could recover from the almost 0% growth in June to some 7% annual growth in the coming years. The government has said this is possible but some economists, mainly from abroad, think it is much too optimistic.
Local economist Elmer Cuba of consulting firm Macroconsult says he believes that Peru's economy will grow by 6% next year.
"In 2015 we are going to again be at our cruising speed, creating jobs and reducing poverty," he said. "The Peruvian economy is very strong, even with this very strong shock that we've had."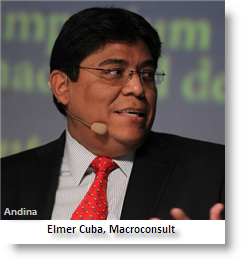 Economist and former Labor minister Jorge Gonzalez Izquierdo believes there will be a "small push" towards the end of the first quarter 2015, when public investment in infrastructure will step up. He also noted that over the past 10 to 15 years, formal urban employment has grown at approximately half the GDP rate, a rate that is considered internationally as "perfectly acceptable."
Cuba, and others, point to the start of major infrastructure projects, including the second line of Lima's Metro, a gas pipeline in southern Peru, the modernization of the north coast Talara refinery, north coast irrigation projects and the longitudinal highway along the Andes as important for boosting growth.
Cuba also argued that private sector investments are still important in Peru, even though they virtually stopped growing in the first half of this year. In 2013, Peru had record investments of $44 billion, according to Cuba, cited by Andina.
"Peru is a party for private investments," he said.