One of the lead prosecutors in the human rights trials of jailed ex-President Alberto Fujimori said he is planning on resigning due to political pressure from within Peru's judicial commission.
Avelino Guillén, a highly regarded and incisive state attorney in key cases, told Ideele Radio his decision to resign from Peru's Public Ministry follows an exam he wrote to obtain tenure at the Supreme Prosecutors Office.  He failed the exam, which was evaluated by the National Magistrates Council, or CNM.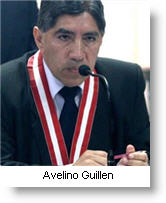 Guillén said the CNM did not provide justification for rejecting the exam and he alleged their decision was influenced by a leading member of President Alan García's ruling Aprista party.
The exam required that Guillen develop the prosecution argument in the Alberto Kouri-Vladimiro Montesinos case,  a case that, ironically, Guillen himself developed and took to trial, and won.
The exam is not evaluated directly by the Council, but by a group of jurists appointed to design the exam and later qualify the answers.  "They can disagree with my line of argument but that is no reason to fail me," said Guillen.
 "At one time or another the truth will be known, but what can be put forward is that this was a decision that had political connotations in the sense that Guillén should not continue," the district attorney said. "I received this information from a very good source, from people who are duly informed… A prosecutor told me that an Aprista leader said 'Guillén by no means'."
Presidential Cabinet chief and APRA stalwart Javier Velásquez rejected Guillén's allegations.
"As leader of the (Aprista) party, I categorically reject and deny this grave allegation that affects our party's institution," daily La República quoted Velásquez as saying. "With the greatest strength, I call on the prosecutor to tell us the name of the person who supposedly, and according to his amusing imagination, had interfered so he would be disqualified."
The vice president of the CNM, Edwin Vegas Gallo, also denied any political influence in the council's decisions to disqualify Guillén, Radio Programas Peru reported. He said the CNM would not re-evaluate his exam.
Guillén has worked for some 30 years as a public prosecutor. He has tried cases involving human rights abuses, corruption, and drug trafficking. In 2008 he made the list of "Personalities of the Year" compiled by Spanish daily El País for his work as prosecutor in Fujimori's trial for human rights violations. During that time he repeatedly received threatening phone calls and visits by suspicious individuals to his home.
The president of Peru's judicial system, Javier Villa Stein, called on Guillén to reconsider his resignation, saying his absence would be a terrible loss for the Public Ministry, according to RPP.
The Institute for Legal Defense also released a statement supporting Guillén.
"Hearing after hearing, he demonstrated his professionalism and commitment to truth and justice… We cannot allow that prosecutors and judges related to the sentencing of Fujimori and (Vladimiro) Montesinos, end up being victims of reprisals and arbitrary action. We demand, on the contrary, their promotion within their respective institutions and the recognition they deserve for their courageous and honest attitude."