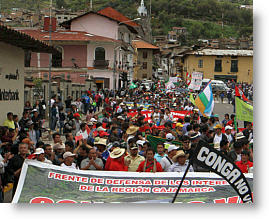 Residents in northern Peru's Cajamarca region resumed protests against the development of the $5 billion Minas Conga copper and gold project.
Numerous poncho-wearing protesters were photographed on Monday riding horses to Perol Lake, which is targeted to be drained in order to develop the Conga mine. The company developing Conga, Minera Yanacocha, wants to drain the lake into reservoirs, to use the lake location for developing the mine and still ensure the water reaches downstream residents all year round.
Protests against Minas Conga erupted in November 2011, shortly after President Ollanta Humala took office.  The protests are centered on the plans by Yanacocha to drain three lakes, including one to be used as a tailings pond.  Yanacocha's high-handed attitude towards local authorities played no small part in the regional protest, fueling an already deep mistrust following a mercury spill 13 years ago related to the Yanacocha gold mine.
Demonstrations against the project, one of the biggest private-sector investments in Peru, dominated the agenda of the Humala administration during his first year in office. In mid-2012, several people were killed when opponents to the mine project clashed with police.
The situation in Cajamarca has been relatively calm since the violent confrontations last year, but protests have restarted after an announcement by a company executive that one of the reservoirs was completed.
Cajamarca Regional President Gregorio Santos, who is one of the main leaders of the opposition to Minas Conga, said that residents won't allow the lakes to be turned into an open-pit mine, or used to store mine waste. "Conga is unviable," Santos said in a Twitter message.
The restart of protests highlights the ongoing challenge that President Humala faces in resolving social conflicts that have affected several large-scale natural resource projects. The protests targetting investment projects are a mix of environmental, social and political demands — genuine concern for the environmental changes to the area and the social impact caused by an influx of outside workers and commerce into usually remote areas, and the struggle between local and central government authorities with different priorities.
Daily La Republica called the restart of the protests against Minas Conga as an "end to the truce."
Yanacocha is a joint venture between Newmont Mining, with a 51.35 percent stake, Compañía de Minas Buenaventura, with a 43.65 percent interest, and the International Finance Corporation with the remaining 5 percent.