Authorities sprang into action Wednesday to rescue seven men trapped hundreds of meters below ground after a rock and mudslide blocked the entrance of an informal mine in a remote province of Arequipa.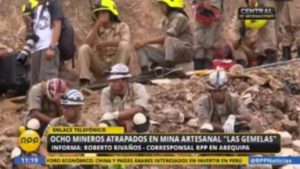 The men reportedly were trapped late Monday in the "Las Gemelas" mine in Acarí, in the Caravelí Province, but regional authorities only learned of the accident early Wednesday morning.
Rescue workers from the coastal city of Nazca were reportedly the first to arrive, followed by firefighters from Arequipa, which is more than eight hours away by road.
Arequipa Fire Cmdr. Jorge Martinez told reporters that seven or eight miners were trapped 200 meters below ground, and that a 50-meter thick wall of mud, rocks and debris blocked the entrance.
Several miners were able to escape on their own. Local media reports put the number of trapped men at seven or eight, but eventually identified seven of them by name. Their ages ranged from 20 to 45 years old.
President Pedro Pablo Kuczynski informed the public Wednesday via Twitter that Peru's government was coordinating with regional authorities in Arequipa to rescue the miners.
"We are coordinating with the @arequiparegion to provide the support necessary to rescue the miners trapped in Acarí, Arequipa," the president wrote.
Estamos coordinando con @arequiparegion para brindar el apoyo necesario en el rescate de los mineros atrapados en Acarí, Arequipa.

— PedroPablo Kuczynski (@ppkamigo) January 18, 2017
Two helicopters were being dispatched from the city of Arequipa carrying more rescue workers and staff from the Arequipa Drinking Water and Sewer Service (Sedapar) with a submersible motor pump to save the trapped miners.