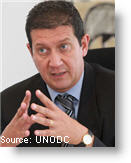 The United Nations Office on Drugs and Crime, or UNODC, said Tuesday that Peru's regional and local governments should take on greater responsibilities in the Andean country's anti-drug policies, state news agency Andina reported.
Flavio Mirella, UNODC's representative in Peru and Ecuador, noted that regional and local governments manage solid resources that can be used to combat drug trafficking.
"The responsibility should also be shared at the regional and local government levels," Mirella said. "It is they (the regional and local governments) that have the biggest quantity of state resources for concrete actions. So, whatever plan there is to address this problem, which is a national state policy, must count on their full support."
Mirella said that Peru's new five-year anti-drug plan should be multidisciplinary. "It isn't only an issue of resources, but rather commitments from all of the parties. Once there is a commitment the resources will also come," Mirella said.
Peru changed its anti-drug chief earlier this month. Carmen Masias, the new head of anti-drug agency Devida, is expected to present Peru's anti-drug plan to President Ollanta Humala's cabinet for approval this week.
Peru is the world's biggest producer of cocaine, according to the U.S. government.