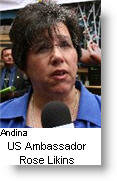 US Ambassador to Peru, Rose Likins, denied accusations made on Wednesday by the head of the Nationalist Party, Ollanta Humala, that former President Alejandro Toledo asked the embassy to help undermine Humala's 2006 presidential campaign.
"The information that came out in the press is not what I provided [Humala]," daily La Republica reported Likins as saying. "I never said that President Toledo had this type of conversation with us."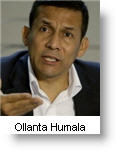 Gana Peru, the political alliance that Humala is leading in this year's presidential race, said the information came out in diplomatic cables held by Wikileaks. Humala had said he was shown the cable during a meeting with Likins.
Humala, who was narrowly defeated in the 2006 election in a runoff with President Alan Garcia, alleged that then President Toledo sent authorities from the Interior Ministry to request the embassy organize a offensive to "destroy his campaign."
Toledo, who is leading the race in this year's presidential election, also denied the allegation, as has his former primer minister Pedro Pablo Kuczynski, who is also running for president.
"I was the prime minister in half of 2005 and the first seven months of 2006 and I hadn't heard of any contact with the US embassy on this topic," Kuczynski said.
Nevertheless, members of Humala's party are still calling for the release of the cable to clarify the issue.