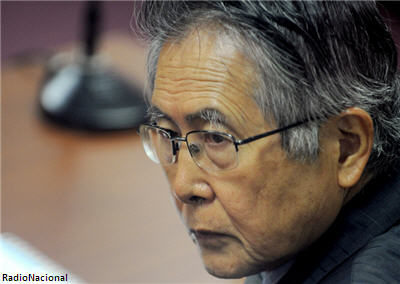 Former President Alberto Fujimori was taken to a private clinic on Sunday evening for tests, following complaints of stomach pains. His family doctor, former Health minister and congressman Alejandro Aguinaga, said Fujimori has a cyst in the pancreas.
Results of the tests will determine whether Fujimori remains at the clinic for the time being or returns to his cell complex at the Diroes, the special operations headquarters of the police force.
Fujimori is serving a 25-year sentence handed down in 2009 for crimes against humanity, in a trial considered impeccable by legal experts worldwide. His term will be completed in 2032.
New pardon request declared inadmissible
Earlier this month, a new request to pardon the former President was turned down by the Ministry of Justice.
The request was filed by Jose Portillo, who was head of the elections process office, ONPE, during Fujimori's second re-election in 2000. Portillo argued that Fujimori is now 80 years old and should, therefore, be pardoned or granted house arrest.
The minister of Justice, Marisol Perez Tello, said the request failed to meet the legal requirements — Portillo's letter did not include Alberto Fujimori's signature, required in any request filed by a third party.