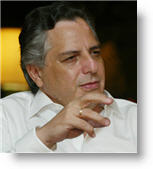 Manuel Rodriguez Cuadros, the presidential candidate of the leftist Fuerza Social party, quit his campaign on Friday, daily El Comercio reported.
Rodriguez, a career diplomat, had minimal support in opinion polls since announcing his candidacy in December and he was currently well behind the top five front runners for the race for Peru's highest office.
Nevertheless, Rodriguez cited a lack of equality and transparency in the campaign as his reason for quitting. The lack of equality refers to plans by the top candidates to hold a debate that would not include candidates at the bottom of the polls, including Rodriguez.
He said the lack of transparency is in relation to the financing of the campaigns, including allegations that money from drug trafficking has been used to support some of the candidates. Despite requirements that all parties report their financing sources to the elections board, JNE, most have not fully disclosed their sources.
"I go convinced that we should change the electoral system in Peru to elevate the dignity of the citizens' vote. That's why I have made this decision, together with the other members [of the party] to withdraw my candidacy for the presidency of the Republic," Rodriguez said.
Rodriguez, born in Cuzco, was Peru's Foreign Affairs minister during Toledo's 2001-06 administration. A university professor with a doctoral degree in international law from the V René Descarte univeristy in Paris, during his career in the diplomatic corps he served eight years at the United Nations. Most recently he was ambassador to Bolivia when he announced his presidential candidacy.