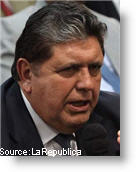 A special congressional committee investigating former President Alan Garcia's administration said Garcia acted in violation of the Constitution when he pardoned prisoners during his presidency convicted of drug trafficking.
The committee, known as the Megacommission, has been investigating allegations of corruption in Garcia's 2006-2011 administration (his first presidential term was 1995-2000).
During this past term, Garcia pardoned or reduced sentences of more than 5,000 individuals who were imprisoned in Peru's notoriously overcrowded jails. However, more than 400 of those released had been convicted of drug trafficking, and other traffickers' sentences were reduced. An investigation by the Megacommission found that in some cases, entire gangs were released from prison.
The added gravity was that the prisoners paid the presidential pardons commission for their release or reduced sentences, according to several testimonies.
The scandal resulted in the  arrest of the official who led the presidential pardons commission during Garcia's administration, Facundo Chinguel. At the same time, former Minister of Justice Aurelio Pastor faces possible criminal charges for his involvement in the pardons list.
The final congressional report also poses a risk for Garcia, whose likely bid for a third term in office in 2016 could be undermined —if not by criminal charges, at the very least by a public perception that he directly or indirectly contributed to insecurity in the country by releasing so many prisoners.
Many of those pardoned have been arrested again for new crimes, and citizen safety is high on the list of public concerns, according to opinion polls.
Garcia has accused the congressional committee of being politically motivated and is trying to hurt his chances of winning future elections.  He has tried to distance himself from the pardons commission but documents with his handwriting show he was directly involved in the decisions.
"They are just trying to block an adversary by creating accusations without legal grounds or real consequences," Garcia said.
Garcia also accuses President Humala and his wife Nadine Herrera of having "an obsession" to block his presidential chances in 2016, and accuses them of being behind a campaign of "mediocrity and hate"  against him.