Threats by opposition parties to refuse to approve the new Premier and Cabinet have led former U.N. Secretary General Javier Perez de Cuellar and three other former Cabinet chiefs to sign a public letter calling for unity and harmony to defend the nation's democratic system.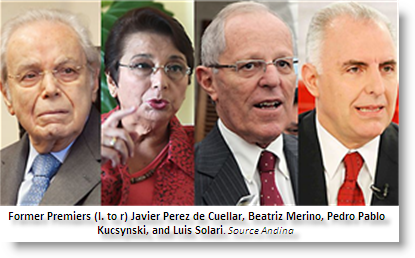 President Humala's new cabinet chief, Ana Jara, is to go to Congress tomorrow with her cabinet, when she will hope to get a majority vote of approval.
This week, she has been doing the rounds of visiting opposition parties and her approach has been essential. The governing party Gana Peru does not have a majority in Congress and if the opposition chooses not to give their backing —they have so far conditioned their approval to a series of non-critical demands— Jara will have to step down and President Humala will need to appoint yet another premier and cabinet barely a month after the previous installation.
The hostile attitude of the opposition parties — Apra's former premier Javier Velasquez Quesquen said they had already decided to vote "no"— led the former Cabinet chiefs to call for a Commitment for Peru to defend "an environment of unity and harmony to defend the investiture and the respect that this represents in the relationship between the Executive and the Legislature."
The Commitment for Peru is the initiative of former UN Secretary General Javier Perez de Cuellar, who was premier during the transitional government after President Fujimori's resignation, and has been signed by Beatriz Merino, Pedro Pablo Kucsynski and Luis Solari, all cabinet chiefs during the Toledo administration.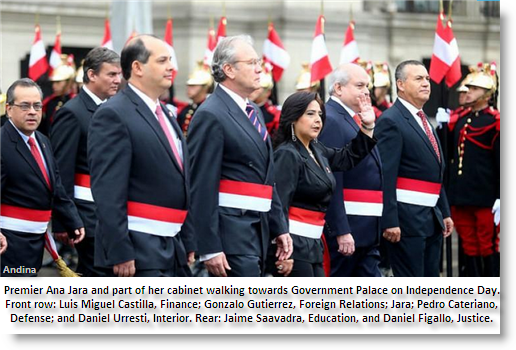 Gana Peru never had a simple majority in Congress but since 2011 it has also lost 11 of its lawmakers, who have crossed the aisle to other parties or as independents.  Gana Peru now has 36 lawmakers, the same number as Keiko Fujimori's party Fuerza Popular.
A lawyer who served as deputy dean of the College of Notaries of the Ica region, Jara had little national political experience before she was elected to Congress and became minister for Women and Vulnerable Peoples at the beginning of Humala's administration in 2011.  Early this year, she was appointed Minister of Labor. Gutsy, and enthusiastically loyal to President Humala and the First Lady, Jara is considered within the government and by several leaders in the private sector as a potential consensus builder.  She has her work cut out this week.