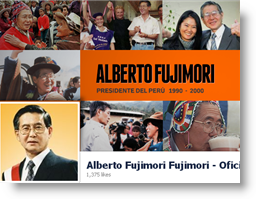 Former President Alberto Fujimori, with the help of "some young people and close collaborators" is taking to Facebook and Twitter to share his "thoughts, memories, dreams, sorrows and joys" with a broader public.   His writings from his prison cell in north Lima are part of his "Memoirs from Imprisonment."
There are several Facebook pages for Alberto Fujimori but the newest is Alberto Fujimori Fujimori, from where the ex-President plans to garner increasing support. So far, there are 1132 "likes", while the number of followers on other pages average between 2,500 and 3200.
Fujimori does not lack supporters, but collaborators undoubtedly hope to sway public opinion and pressure the government through social media.
In June this year, President Ollanta Humala turned down Fujimori's request for a pardon —on the grounds that Fujimori's health is not at risk and that he has not shown any sign of repentance—  and last week the Minister of Justice, Daniel Figallo, reiterated that there is no legal justification or instrument to allow Fujimori to serve his sentence under house arrest.  
Fujimori is serving a 25-year sentence for crimes against humanity at the Police Special Operations Unit, DIROES, in east Lima. He has also been convicted on charges of corruption (seven years) as well as phone-tapping and abuse of power (six years), but under Peruvian law, sentence terms are not cumulative and only the longest sentence is served.  He now also faces a trial to begin in October, on charges of using some $44 million from Armed Forces funds to bribe editors and help create tabloid dailies during his administration.