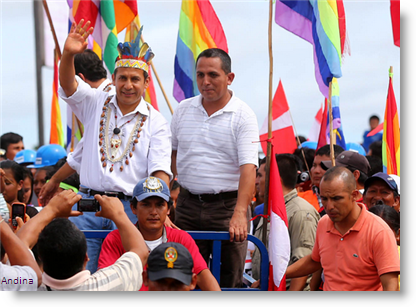 President Ollanta Humala on Tuesday called for "mutual respect" among politicians, a day after his government averted what could have been a political crisis.
"Each political group has its expectations and aspirations in the electoral process, but we understand dialogue to be something without blackmail or threats, because we believe that way we don't achieve anything," Humala said in comments reported by state news agency Andina.
Humala's comments, during a visit to the jungle city of Iquitos, came a day after Peru's Congress gave a vote of confidence to the President's new cabinet.
President Humala appointed his new premier in late February,  the former Housing minister Rene Cornejo, to head the cabinet. The cabinet is required by law to receive a vote of confidence from Congress after every shuffle. The process is generally a formality: Analysts say that no cabinet has been rejected since the rule was put in place some 30 years ago.
However, on Friday, enough opposition politicians abstained from voting to prevent the cabinet from receiving the vote of confidence in a grueling, hours-long session. Opposition politicians said the move was a signal to President Humala to change two ministers (Defense and Interior) and that he must reign in the influence that First Lady Nadine Heredia has in the administration.   The final vote was 42 in favor of approval, six votes against, and 73 abstentions.
By abstaining and not voting outright against the cabinet, the opposition avoided a crisis that would have required that President Humala appoint a new cabinet. This could have essentially brought the state to a standstill and would hurt investor confidence.  If Congress again failed to approve the second cabinet, then the Constitution would have allowed the President to dissolve Congress and call for new congressional elections.
President Humala gave an early morning press conference on Saturday, saying that all members of his cabinet had offered to resign following the lack of a vote of confidence. Lawmakers went back to Congress on Monday for another vote, in which Cornejo and his cabinet were successful.  The votes were 66 in favor, 52 against and nine abstentions.   The swing in the votes came as a result of harsh criticism from a broad political spectrum, including Nobel author and libertarian Mario Vargas Llosa,  Alfonso Garcia-Miró of the private business and industry federation, Confiep, and left-wing politicans and analysts, including former president of Congress, Henry Pease.  
First Lady Nadine Heredia was extremely popular during the first two years of Humala's administration, where she has worked closely with ministers and been a close adviser to her husband. She is the co-founder of the party and is currently acting chair until the endof her husband's presidential term.  Her popularity has declined, however, as political analysts, the media and opposition politicians criticize what they see as an abuse of her position, undermining political protocol and institutions.
Despite repeatedly denying her intention of running for President in 2016 (a law currently bars her from doing so, as a close relative of the incumbent), Heredia's charm and political savvy have made supporters enthusiastic about the option and this has led to growing criticism from the opposition.
Heredia's most outspoken critic is former President Alan Garcia, who has his eyes on a third term as President and sees Heredia, if the law were changed, as a serious threat to his success.   Mario Vargas Llosa, in an interview with journalist Augusto Alvarez Rodrich, believes the attacks on Heredia are extreme and unjust and that her and the President's fall in opinion polls are the result of strongly manipulated information in the press and a "demolition operation" led by Alan Garcia.  Garcia is the Macchiavellian figure behind this demolition, Vargas Llosa said.
Former congressman Henry Pease described the new crisis as "a Congress accustomed to using blackmail, and it clearly shows the objectives of the Fujimoristas and the Aprista party: to release Fujimori from jail and cover up the corruption of Alan Garcia's government investigated by the Megacommission."
The political crisis over the weekend was triggered in part by the earlier crisis, the resignation of Cesar Villanueva as premier only a few months after he took office. He resigned in February after he was publicly corrected by both Heredia and Finance minister Luis Miguel Castilla over comments about raising the minimum wage. Heredia said the topic was not on the government's agenda, and this was echoed by Castilla two days later on his return from President Humala's visit to the Middle East.