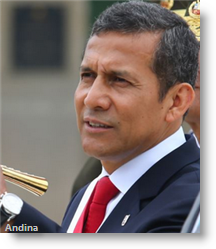 President Ollanta Humala is praising the decision by the United States and Cuba to restart diplomatic relations a half century after they were broken off.
"It is a historical and brave step that is going to allow for important progress in the integration process," Humala said, according to daily Peru.21.
"This is going to involve the exchange of people and it is also going to involve the opening of trade, which will benefit the Cuban community," Humala said.
Humala's government has good ties with both the United States and Cuba.
The decision by both countries to resume diplomatic ties sets the stage for ending a bitter relationship dating back to the Cold War.
Latin Americans have long criticized the US government's embargo on Cuba, which the United States has argued was necessary to put pressure on the dictatorship run by Fidel Castro.
Castro's brother, Raul, who works closely with Fidel and became head of the Cuban government in 2006 to oversee gradual changes in Cuban policies, has been the key figure to break the ice with President Barack Obama.
The U.S. – Cuba agreement has included the immediate swap of prisoners between both countries, as well as plans by the U.S. to open an embassy in Havana.  It will also ease some travel restrictions between the two nations.
Pope Francis, an Argentine, is said to have been key in helping the countries overcome the impasse, while Canada also participated actively in the talks.
Latin American governments of all political leanings have praised the move. President Rafael Correa of Ecuador said it was "incredibly beautiful."
"It seems as though Pope Francis is doing miracles," Correa said, according to El Universo.