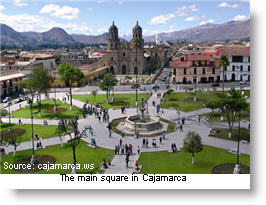 President Ollanta Humala said Monday that tourism in Peru is starting to be affected by social conflicts in the mining sector, while reiterating the need for dialogue to resolve the disputes.
Business groups in the northern region of Cajamarca have said recently that ongoing protests against Newmont Mining's Minas Conga project have cost the local economy more than 38 million soles (approximately $14.3 million).
The protests began towards the end of May and are aimed at blocking the development of Minas Conga, a large-scale gold project that would be Peru's biggest private sector investment in history.
Local media has reported that the losses to the tourism sector in Cajamarca are approximately 1.5 million soles.
"The main archaeological centers are desolate and we don't even see tourists in the historic center of Cajamarca," the manager of Cajamarca's business chamber, Luis Cespedes Ortiz, said.
Humala told reporters in televised comments on Monday that the social conflicts are creating "a cost that all authorities in the country need to recognize."
Peru's top tourism attraction, the Inca citadel of Machu Picchu, is located in southern Peru, in the department of Cusco. The department of Cusco has also faced mining protests recently, although these are far from the main tourist destinations.
In 2011, tourism to Peru grew at three times the global rate, according to the Foreign Trade and Tourism Ministry. The ministry said that international tourism rose 13% last year, bringing in more than 2.59 million visitors from abroad.
Humala's popularity dropped 12 percentage points in June as a result of the conflicts, which have often turned violent.