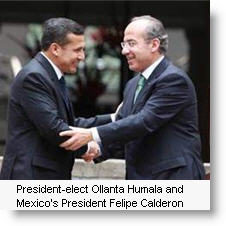 Peru's incoming president, Ollanta Humala, was in Mexico Monday to meet President Felipe Calderon.
Humala, who is preparing to take office on July 28, has already traveled through South America and to the United States, where he met President Obama last week. He recently returned from a trip to Venezuela, where he met with President Hugo Chavez, and today is in Cuba as the final destination in his pre-inaugural introduction visits.
"With Mexico, after July 28, we are going to improve relations that already are excellent," Humala said.
Humala said Peru and Mexico have common challenges, including addressing poverty, organized crime, and inequality, daily El Comercio reported.
He added: "We want to improve commercial exchange even more so" and "strengthen relations in the area of education."
In 2010, trade between Peru and Mexico totaled $1.4 billion. Calderon said he hopes a free trade agreement between the two countries would be signed soon in order to continue developing commercial ties.
"We hope that it can be approved very soon to be able to take advantage of the mutual business and investment opportunities, and the employment opportunities that come from greater trade, for Peruvians and for Mexicans," Calderon said.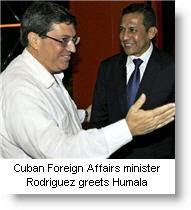 "For Mexico, political and economic freedom is key to building stronger and more just economies," he added.
In Cuba, Humala was received at dawn today in Havana by the minister of Foreign Affairs, Bruno Rodriguez, prior to a scheduled meeting with the  head of the Cuban government, Raul Castro.   Humala said in an airport press conference that the meeting would be based on an open agenda.
During his one-day stay, Humala may visit President Hugo Chavez, who is in Cuba for chemotherapy.   Humala himself had medical treatment in Cuba in 2006,  for gall bladder surgery.