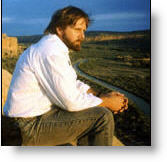 Writer and Emmy award-winning documentary producer Kim Macquarrie is in Lima this week, to launch the Spanish edition of his Last Days of the Incas, a dramatic history of Manco Inca and the Spanish Conquistadors, published by Inkaterra.  
The book presentation is to be made tonight, Friday 19, at 7pm by Jose Koechlin, founder and CEO of Inkaterra, and Cecilia Bakula, former Minister of Culture.  The event is at the opening of the International Book Fair, at the Parque Los Proceres in the Lince district.
Along with the new Spanish edition, Inkaterra has also published the original version in English in an edition for Peru.   Last Days of the Incas was reviewed in Peruvian Times by Nick Asheshov earlier this year.  The event includes book signing of editions in English as well as Spanish.
A Lima Times staff writer in the late 1980s when he was doing postgraduate anthropology studies at the Universidad Catolica in Lima, MacQuarrie travelled extensively throughout the Cusco area and in the lower Amazon Basin, living for several months with a newly contacted indigenous community of Yaminahua.  He returned years later to do a documentary film for Discovery Channel, when he also talked to groups of Machiguenga.  It was their oral history, which included memories of their contact with the Incas, that sparked his interest in reading the 16th and 17th century chronicles of one of the world's pivotal encounters between peoples —the Spanish and the Incas.
Of his dramatic retelling of the Spanish Conquest, based entirely on fact, MacQuarrie told La Republica this week that "My principal objective was to try to bring this fascinating story and its characters to life.  I wrote it more as a narrator of history rather than from the angle of a historian or anthropologist, using many of the techniques of the story-teller."
The annual International Book Fair, held this year at Parque Los Proceres, on Av. Salaverry in Lince, will be open July 19-August 4. The fair opens daily at approximately 11am, with presentations and talks in the afternoons and evenings. It includes booths for 330 publishers, with the launching of 260 new titles. The Peru Book Chamber expects sales to reach $1.5 million.