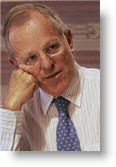 Pedro Pablo Kuczynski, well-known Peruvian economist and politician, said that Peru should do whatever it can to prevent the sale of the multibillion dollar Las Bambas copper project.
This week, Swiss commodity trading and mining company Glencore announced that it will sell the $5.2 billion Las Bambas project in order to gain approval from Chinese regulators for an acquisition of Anglo-Swiss mining group Xstrata, which owns the Las Bambas project.
The approval from China's Ministry of Commerce and antitrust authorities was the final hurdle needed to move forward with the $35 billion takeover, which will create one of the world's biggest mining companies.  Glencore and Xstrata combined have around a 7 percent share of the global copper market.
Las Bambas is currently owned by Xstrata, which also operates the Antapaccay mine, both in southern Peru, and has a minority stake in the Antamina mine in the central Andean highlands. 
"There will be major economic damage not only to the company but also to Peru," said Kuczynski, a former finance minister, premier, and presidential candidate. "What the Chinese government said is that if you don't reduce your copper presence in China with imports from Peru, Argentina or the Philippines, you won't be coming in here, which is an abuse of power."
Kuczynski said that Peru's government should appeal the deal with the World Trade Organization, according to daily Gestion.
It is unlikely that Peru will take any action to block the mine sale. Peru would probably not want to enter into a high-profile commercial dispute with China, as the Andean country depends heavily on China as its top export market and as an important source of investments.
Las Bambas is one of Peru's largest mining investment projects. It will require an investment of $5.2 billion and will produce 400,000 tons of copper concentrates, as well as gold, silver and molybdenum as byproducts. Commissioning at Las Bambas is expected in the fourth quarter of 2014.
The project is to increase Peru's current copper output by about one-third. Peru ranks third in world copper production. There are several large-scale copper projects being developed, which will be able to more than double Peru's present copper output.
Xstrata's chief executive, Mick Davis, said the mine sale brings "surprise, sadness," according to a report by Bloomberg News.
"It is hard for all those involved in its inception and who would have liked to see the project ramp up into operation. However, it is a necessary step that we must accept," Bloomberg reported Davis saying in a letter to Xstrata employees. Davis has agreed to not continue with the company once it is acquired.
Local Peruvian media reports have speculated on who may purchase Las Bambas. The reports said that it could be a Chinese firm, and may be Chinalco. Chinalco is currently developing the $2.2 billion Toromocho copper project in Peru.