Left-wing presidential hopeful Ollanta Humala has received public support from almost 100 professionals and intellectuals for his campaign for Peru's highest public office, daily La Republica reported.   Humala made the announcement in a press conference accompanied by his new backers.
The support for Humala has come from members and independent advisors of ex-President Alejandro Toledo's Peru Posible party and 2001-2006 administration, as well as from some of the country's leading intellectuals and professionals who have not previously backed any candidate openly. 
Among the best-known professionals to support Humala are Kurt Burneo, the former president of Peru's Banco de la Nacion, as well as Oscar Dancourt, a former director of the Central Bank, former Cofide president Daniel Schidolowsky, and economists and university professors Javier Iguiñiz, German Alarco, Humberto Campodonico and Pedro Francke, who is a former president of the national development cooperation fund, Foncodes. Both Burneo and Dancourt were in Toledo's recent campaign.
The star-studded list also includes prominent opinion leaders in a wide variety of fields — Ketin Vidal, police chief during the Fujimori regime when Sendero founder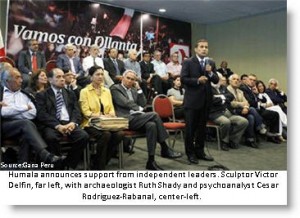 and leader Abimael Guzman was captured; former mines and energy minister Carlos Herrera; constitutional lawyer Francisco Eguiguren; sociologist and former National Library director Sinesio Lopez; scientist and former head of the Peruvian Nuclear Energy Institute, Modesto Montoya; psychoanalysts Cesar Rodriguez-Rabanal and Saul Peña; Julio Castro Gomez, former dean of the Peruvian Medical College; Ruth Shady, anthropologist and head of the iconic Caral-Supe archaeological project; Alfonso Velasquez, former president of the Exporters Association, Adex; painters Gerardo Chavez, Ramiro Llona and Leslie Lee, sculptor Victor Delfin, and Teresa Ralli and Miguel Rubio of the Yuyachkani theater group as well as actor Gianfranco Brero.
The announcement comes as Humala seeks to gain support from centrists in an attempt to convince the electorate that he will not implement radical, nationalist policies as Venezuelan President Hugo Chavez did.
Humala had a strong alliance with Chavez during the 2006 presidential campaign that he lost in a close vote count to current President Alan Garcia, and is known to have received financial support from Chavez at one time.
In this campaign, Humala has tried to distance himself from Chavez and present a new image more aligned with Luiz Inacio Lula da Silva, Brazil's former president and a major continental leader.  Humala's campaign managers are Brazilian.
"These supporters are going to help us gain trust," Humala said, as he introduced them to the press. "The majority are not from Gana Peru."
"I know that trust isn't easily given and I haven't asked for a blank check. I only ask that citizens give me an opportunity," he added. "Also, if they elect me, Ollanta Humala will not govern alone, but with the team that accompanies him."
Alejandro Toledo had met with Humala over the weekend. The political leaders have many coincidences, but did not reach an alliance, and Toledo's supporters now backing Humala have done so independently.
 In this second round for the presidency, Humala and his Gana Peru party will face Congresswoman Keiko Fujimori, the daughter of jailed ex-President Alberto Fujimori. 
Peruvians will go to the polls on June 5 to choose between Humala and Fujimori. The new president will be sworn in to office on July 28.