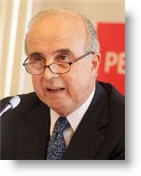 Peru's next government will need to attract about $35 billion annually if the country is to continue its red-hot economic growth, according to Economy and Finance minister Ismael Benavides.
"For Peru to continue growing at rates of eight percent and generating employment, it needs $35 billion a year in investments," state news agency Andina reported Benavides as saying.
The main driver of the investment will come from the private sector, Benavides said, adding that the State will only be able to provide up to $7 billion a year.
"Half of it is national investment, a quarter part is foreign [investment] and the other quarter part is from the State," he said. "That's why we have to provide clear conditions for investment to come, which means rules that are stable, that the field is even, without distortions, and that there is safety for investment."
"The [new] government has to have the capacity to attract this investment, this new investment, in a way that guarantees growth."
Peru's GDP posted its 18th consecutive month of growth in February when it rose by 8.53 percent over the same period last year.
Peru was one of the world's fastest growing economies in 2010 at over eight percent. The International Monetary Fund has projected the GDP will increase by 7.5 percent this year.
The next administration will take office on July 28 and be led either byleftist Ollanta Humala, a 48-year-old former army officer, or Keiko Fujimori, a congresswoman and daughter of imprisoned ex-President Alberto Fujimori.