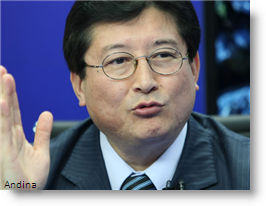 Peru's Deputy Mines Minister, Guillermo Shinno, said Tuesday that he hopes junior mining companies will see a rebound this year, after struggling to survive due to low metal prices.
Junior miners are central to the mining sector and development of new projects, in their role as prospectors, finding mineral-rich deposits and selling them to the larger companies with expertise in production.
However, it is a risky venture. The junior companies can make a massive profit if they discover a mineral-rich deposit during a period of high metal prices, but they are also the most vulnerable during the downturn in the commodity cycle.
Many of the junior miners have closed their doors or suspended operations since metal prices began to fall in the past year and a half due, the result of a weaker demand for metals from China.
Shinno told state news agency Andina that he hoped the junior mining sector would recover, thanks to improved economic growth in the United States, which would provide them with access to capital.
"The United States is improving its economic situation and this could mean more financial resources available in North America for junior miners to raise the necessary money for their exploration campaigns. We are optimistic," said Shinno.
Shinno said about 400 junior miners are operating in Peru.
Many of the junior mining companies also seek their funding on the Toronto Stock Exchange. "But it isn't easy today for them to raise money on the stock market because exploration activity is a risky one," he added.