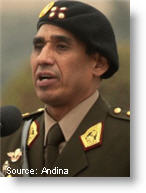 The commander general of Peru's army, Victor Ripalda, said Friday that "sooner or later" the country's security forces will defeat Shining Path remnants.
"What is certain is that sooner or later we have to finish with this scourge," Ripalda said, according to state news agency Andina.
In a joint operation, the military and police captured on Sunday Florindo Flores, the head of the Shining Path faction in the Upper Huallaga Valley. A badly injured Flores, whose nom de guerre is Comrade Artemio, was transferred to the police hospital in Lima, and later will be placed in a maximum security prison to await trial. 
Authorities have said that he will face a life sentence for his role in a number of killings and in drug trafficking.
Artemio was the last member of the Shining Path's central committee to be captured. The group reached a peak in the late 1980s and early 1990s as it launched a bloody conflict aimed at overturning the state. About 70,000 people were killed during the conflict, with the Shining Path responsible for about 54 percent of the victims.
Shortly after Flores' capture, a Shining Path faction in the Apurimac and Ene river valley, VRAE, the country's major coca growing region, attacked a military base killing one soldier, and injuring another.
This faction, led by Victor Quispe, known as Comrade José, has had more success in attacks to protect the drug trade against the military and police and operates within much rougher cloud forest terrain. The government has offered a $1 million reward for Quispe. 
Quispe's group, which has had direct links to drug traffic since 2005, intends to spread its scope further in the Ayacucho-Cusco-Junin area but also to move northwards to the Upper Huallaga to take over the area now left leaderless by the capture of Flores, according to investigative journalist Gustavo Gorriti.  According to Gorriti, Quispe's group had already attempted to move into the Huallaga before.
Last month, the US government donated $2.3 million in equipment and war materiel to Peru for use by the police and military in operations in the VRAE, including crop eradication and combat against drug traffickers and their protectors.  
Peru is one of the world's top producers of cocaine.