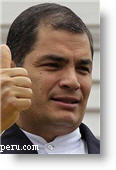 President Ollanta Humala has congratulated his Ecuadorean counterpart, Rafael Correa, on his re-election over the weekend.
In a letter to President Correa, Humala said the re-election victory will allow the two Andean countries to deepen ties, daily El Comercio reported.
"I'm convinced that we will continue working in coordination to promote the integration of Peru and Ecuador, and to achieve the well-being and development of people from both countries," Humala said in the letter.
Correa was widely expected to win Ecuador's presidential election on Sunday. Ecuador's electoral authority said that he won 57 percent of the vote, while his nearest opponent, Guillermo Lasso, took 23 percent.
Correa, a 49-year-old left-wing populist who is a close ally of Venezuelan President Hugo Chavez, was first elected in 2007 following years of political instability in Ecuador. The country had seven presidents during the 10-year period prior to Correa's inauguration in 2007.
Correa said he doesn't plan to run for office again. He said his administration will continue to use revenue from the oil sector to support social programs in the small Andean nation.