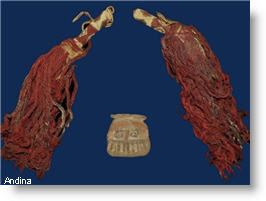 British and Peruvian authorities worked successfully to remove three pre-Columbian objects from an online auction catalogue in London.  The pieces had been listed for auction this past Saturday, January 12, but TimeLine Auctions agreed to take them out of the sale.
According to the auctioneers, the pieces were part of the estate of a private collector who had acquired them in the 1950s, and that had earlier belonged to a collection from the late 19th century.
The small ceramic head is part of a figurine from the Chancay or Chillon valleys just north of Lima (1100-1450 A.D.), and the two red tassels —woven in cotton and fine camelid wool—are details from a 15th century Inca ceremonial bag, or chuspa.
Blanca Alva, general director of supervision and control at Peru's Ministry of Culture, said the success in this case was an example of how, contrary to the long years of failures, Peru is finally achieving greater success in getting auction houses to hold pieces back from their sales. 
Alva mentioned the auction houses of Dorotheum (Austria), Mosgreen (Australia) and LiveAuctioneers.com in California as recent success cases, allowing Peru to recover 20 pre-Columbian artifacts.
But there is never much time to enjoy the success.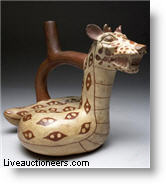 Just a couple of weeks from now, on February 1, the Antiquities Saleroom of Boulder, Colorado is featuring an auction of very fine Peruvian pieces.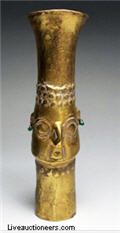 The catalogue, listed on the LiveAuctioneers.com website, is of an exceptional collection of pre-Columbian objects that include Mayan pieces and unique artifacts from Argentina, plus several rare Moche pots and tumis, copper and gold masks from Sican and Lambayeque, two silver Sican keros or cups, and a gold Sican beaker. All the pieces are from two private collections in the Hollywood area, according to the promotion.
Mummy returned from Bolivia
In November last year, the Bolivian minister of Culture, Pablo Groux, came to Lima to hand over a pre-Inca mummy that had been smuggled into Bolivia two years ago and seized by police from a woman who was shipping it to France. The mummy was of two-year-old child, although scientists have not been able to determine its sex.
At the presentation, in the Ministry of Foreign Affairs, both governments signed a cooperation agreement on protecting antiquities, which Peru's Culture minister Luis Peirano stressed as extremely important.  Many of the artifacts smuggled out of Peru in recent decades have been camouflaged, often as cheap handicrafts, and taken across the border into Bolivia, to be subsequently taken to the United States or Europe. Although Peru has antiquity agreements with the United States, the United Kingdom and other countries, Bolivia does not and so Customs in those countries is not on the look-out for special art coming in from Bolivia.