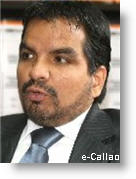 Peru's anti-corruption prosecutor said he will be looking into media reports alleging that the governor of the northern region of Cajamarca, Gregorio Santos, gave multi-million dollar public works contracts to a friend in exchange for money.
"We will have to study the audios, review the documents, but if the information given by the press is confirmed, it is possible there is a crime of collusion," said prosecutor Julio Arbizu.
Newspaper Peru.21 reported Tuesday that it obtained recordings of Wilson Vallejos, a businessman and reportedly a friend of Santos, saying he had made payments to the governor in exchange for winning public tenders. Vallejos' company has won the last 15 public tenders for the construction of hospitals, plumbing and electricity projects. The projects are worth more than 90 million soles (approximately $34.5 million), according to the daily.
"I have to now give the dough to this guy," Vallejos is reportedly heard saying, referring to Santos. "I'm the one who launders the money for this guy."
Santos was quick to defend himself. "I want to express my most energetic rejection and condemnation of this man's statements," Santos told a local television station. "I don't know him, I'm not his friend," he added. "I've seen him on two or three opportunities because he is from Cajamarca region, he's from Chota. While Cajamarca is a big region, it is relatively small because we all know each other."
Santos said he may seek legal action against Vallejos for making the comments.
It is unclear how Peru.21 received the recordings.
Santos has gained national prominence during the past year for his role in opposing the development of the multi-billion dollar Minas Conga copper and gold mine project, majority owned by US-based Newmont Mining.
Santos was one of the main leaders of protests against the project. Opponents say Minas Conga, located in the highlands of Cajamarca, would harm the local water supply by draining Andean lakes. The company has rejected this claim, saying that it would boost water to farmers and other residents by building reservoirs.
The project has been supported by President Ollanta Humala's government as well as the private sector's National Mining and Petroleum Society, SNMPE.  However, most analysts agree that it will be at least another two years before the project can be reconsidered, given the political climate in the region. Negotiations have not been fruitful, despite several important changes to the project handling of water sources.