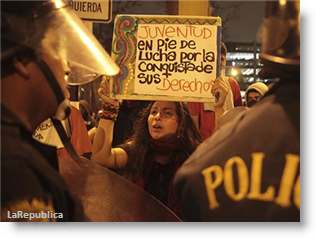 President Ollanta Humala today called on the country's young people to read the new youth labor law and reflect on its benefits, following a week of protests that built up to a march in Lima that included several violent incidents.
Hundreds of young men and women marched in Lima yesterday against the government's new Youth Labor Law, one of a series of measures the Executive recently sent to Congress as initiatives to boost the economy.  The march began in the Plaza San Martin, in downtown Lima, and progressed to Miraflores but along the way, according to Interior minister Daniel Urresti, professional protesters infiltrated the protests and used bricks and heavy sticks.
Some 30 youths were arrested, but reportedly later released.  Six youths filed complaints of police aggression, according to the national Human Rights Coordinator, and three police were also reportedly injured.
"I urge the young people who yesterday went out to protest, to become properly informed on the law and to reflect," said President Humala. " If they have [a job], they should also aspire to making sure that others have something."
Ex President Alan Garcia took to Twitter to criticize the law. "The Humalas are against young people.  Military service, short hair, intervention in universities, employment without benefits.  Peru is not a barracks."
In response, Humala said, "There are several Garcias. What people need to see in people is coherence. [The law] is similar to what former President Garcia defended in his own government. I don't understand why he has changed positions so quickly."
Earlier in the day, first lady Nadine Heredia described the criticism from members of Congress who earlier had voted for and were now opposing the law as "cheap political posturing."
The law, passed by Congress, is designed to reduce unemployment and informal employment, creating jobs for people between the ages of 18 and 24 by allowing businesses to hire them and put them on the payroll but without the social benefits of service compensation fund, bonuses, family bonus, and a share in profits.  The social benefits are incorporated if the business continues to employ the person after he or she turns 25.
The target group is young people just out of high school, with no specialized skills or possibilities of technical training or higher education and, therefore, few possibilities of formal and long-term employment.
Humala said the possibility of serious, even if short-term, employment is designed to provide young people with the possibility of "training, qualifications and then better income later on. We're fighting against informality," said Humala.
The International Labour Organisation, ILO, has criticized the employment law for not granting service compensation and bonuses and for lowering the standard vacation period from 30 days to 15.
Meanwhile, congressman Daniel Abugattas, of the ruling party, said in a town hall meeting and teleconference that the State will be investing S/. 600 million to cover EsSalud health insurance for young people hired by small businesses and to reimburse small businesses in the investment they make to train young employees.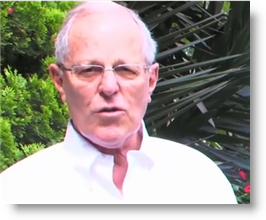 According to statistics, 80% of the economically active population in Peru is working in the informal sector, with few if any benefits.
Economist Pedro Pablo Kuczynski, a former presidential candidate, is also critical of the law but for different reasons.
"I have said the program should be extended to 30 years of age.  But what the press does not mention is that I have always said that [these jobs] should have the corresponding benefits and that a new unemployment insurance should be created," Kuczynski said in a recorded statement posted on Youtube.
Alfonso García-Miró, president of the private industry confederation, Confiep, estimates the law could bring in two million potential employees to the work force who "from one day to the next" will have an opportunity to get "a dignified and formal job instead of the informal jobs they have access to today."