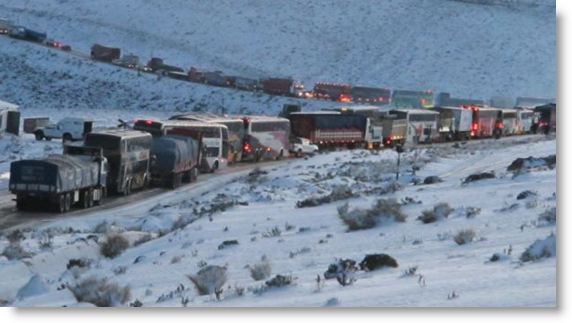 The central highway between Lima and the Andean towns of La Oroya and Huancayo was opened again early Tuesday morning, after a heavy snowfall ground traffic to a halt for over six hours between Km 124 and Km 132, in the Ticlio area at 4,800 meters above sea level (15,700ft).
A long line of heavy trucks, passenger buses and private vehicles was stuck on the road in freezing temperatures all night before the snow was cleared to let the traffic flow through again.
During the long wait, near the mining town of Morococha at around 3,800 masl, a young woman went into labor. RPP Radio reported Eugenia Condor,26, was eight months pregnant and was travelling with her husband, Saul Meza, by bus from Huancavelica to Lima. She gave birth to a baby boy in a police patrol car and taken to the health center in La Oroya. The baby weighed 2.95 kilograms and was in good condition.
The traffic congestion at Ticlio led transport authorities to block access from Lima of all east-bound passenger vehicles for close to six hours until 6:30 am Tuesday, according to Peru.21.