If you have an hour or two this weekend, don't miss a wonderful exhibition in Miraflores that spans some 60 years of creativity and craft by two artists who have made a rich contribution to the Peruvian art scene.  
She a sculptor trained in Lima, Montreal and New York, and he a painter and engraver from the Art Institute of Chicago, Isabel and John met at Syracuse University where John was one of the youngest art professors and Isabel was studying sculpture with the great Yugoslavian artist Ivan Mestrovic.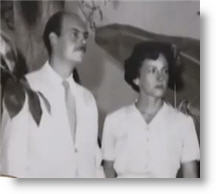 They were married in Lima in 1951, and by 1954 had opened the Art Center. Based on so many similar art centers in the U.S., it was the first of its kind in Peru, to encourage and teach contemporary artists and folk artisans in the fundamental methods and techniques of their craft.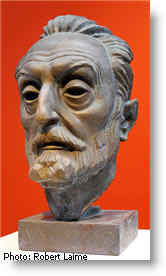 The Art Center became a venue for exhibitions, talks and discussions, even a choir and ballet, and both 'erudite' art and traditional or folk art were given the same importance.  The teaching staff included artists of the caliber of David Herskovitz, Cristina Galvez, Arturo Kubotta and Carlos Bernasconi, and scholarships were given to young students from lower-income homes.  They also created a foundation to foster art in education, with one project at a center in one of the poorest neighborhoods of old Lima, and another in Pucallpa in the jungle —with the support of the YMCA, the Peace Corps, and the Peruvian armed forces.
In 1961, John Davis created and organized the first Noche de Arte at the U.S. Embassy, an annual event that continues to this day as a fixture on the Lima art scene, now held at a venue such as the Ministry of Culture where a wider audience can view and buy the works.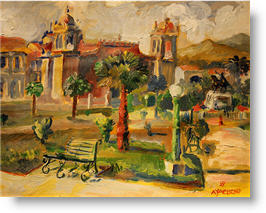 Isabel's enthusiasm and John's quieter Midwestern demeanor, and his dry wit — obvious in his amusing sketches of social situations— led them to each develop their own interests.
A pioneer in using non-European art in the home, John's contribution to encouraging and rescuing folk art has been invaluable. He organized the visit in 1967 to California of a group of Peruvian folk artists —including Hilario Mendivil of Cusco— to exhibit their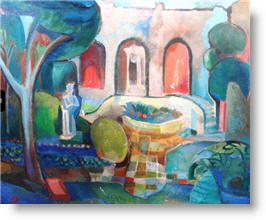 work and demonstrate their techniques, and in 1968 was the organizer of the Third World Crafts Council meeting held in Lima, with 800 delegates from 61 countries.  Also, an exhibition of work by Peruvian children was held in the junior museum at the Metropolitan Museum of Art in New York.
John was also the pioneer in taking Limeños and foreigners to visit the city of Huamanga, Ayacucho, for the Easter week festivities,  a destination that is now one of the most important on the tourism calendar.
John — who later became a consultant to the Organization of American States, OAS, and the Inter-American Development Bank, IDB— also created the Peruvian collection that is in the International Folk Art Museum in Santa Fe, New Mexico, founded by the architect and designer Alexander Girard.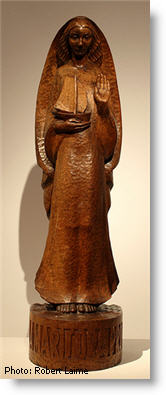 Isabel, meanwhile, was on the Commission of Religious Art and Monuments with some of the country's leading architects, and was a founder of the Renovare group led by architect Robert Wakeham, which fostered contemporary sacred art in new churches being built.  A special example of their work is the San Antonio de Padua church on Av. San Felipe, in the district of Jesus Maria. The church was designed by Wakeham, and the religious art includes exceptional stained glass windows by Adolfo Winternitz, sculptures by Isabel Benavides and other artists, and a wall of bas relief illustrations of Jesus' parables by John Davis.
Several of Isabel's religious sculptures are in the exhibition, an excellent example of different materials and very different styles.   One of her works, a copy of which is in the exhibition, is a life-size statue of San Martin de Porres commissioned in 1990 for Liverpool's Metropolitan Cathedral of Christ the King.  
(One of my own favorite sculptures —not religious and not in the exhibition— is the sculpture of a quetzal, the national bird of Guatemala, which is in the Parque Guatemala in San Isidro, on the third block of Las Flores. A similar version is in the Parque Peru in Guatemala City.)
What comes across in this exhibition of Isabel's rich variety of sculptures and John's paintings, amazing sketchbooks, and engravings —as well as the selected pieces from their collection of folk art— is not only their own creativity and their dedication to creating a public awarenesss of the importance of art in one's life, but a rich sense that they enjoyed every moment.    
John, who celebrated his 90th birthday in March without Isabel, who died in 2010, still has a twinkle in his eye and a chuckle that speaks volumes of that enjoyment.
—— Eleanor Griffis
Where:  German Kruger Espantoso Gallery, ICPNA, Av. Angamos Oeste 160 (corner w/Av.Arequipa), Miraflores.
When: Open Fri -Sun (closes 21 April) from 11am to 8pm.